YORK® Hx™3 Communicating Zoning System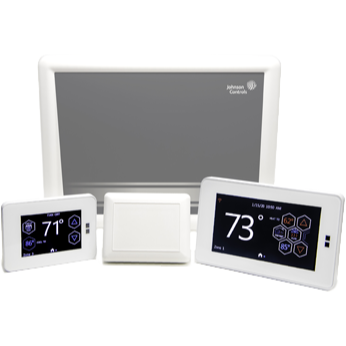 The Ideal Comfort Solution for a New Generation of Smart Homes
The innovative Hx™3 Communicating Zoning System is designed to deliver the ultimate in quiet comfort at the peak of efficiency. Enabling you to treat the different heating and cooling needs of different parts of your home independently, communicating zoning allows you to set and maintain individual space conditions based on your preferences. Unlike conventional systems, you no longer need to contend with a hot or cold room above a garage or in a basement. Each member of the household can choose their preferences and desired room conditions. Plus, the Hx™3 Communicating Zoning System allows you to have control whether home or away through the Hx™ app, available on iOS and the Google Play Store.
How Communicating Zoning Provides Comfort and Efficiency
All the components of a communicating zoning system talk to each other to actively monitor your individual room or zone conditions and adjust operation automatically without you having to do anything further.
Combining our award-winning YORK® Affinity™ variable-capacity, premium-efficiency units with our Hx™3 communicating thermostats and sensors enables you to control individual space conditions. The combination also minimizes temperature swings that can occur with conventional systems, and the energy required to overcome them, for optimized comfort.
Complete Control – Anytime, Anywhere
The innovative, easy-to-use Hx™ app empowers you to take full control of your HVAC system from your smart device. Intuitive icons and a simplified set-up process make the app easy to use, while granting remote dealer access ensures that any issues can be easily shared with your HVAC professional to speed service. Our recently re-engineered app has new and expanded features like automatic pairing with your thermostat, simplified secure login, new home and away modes, and geo-fencing capabilities.
Choose Your Level of Control
Zone sensors and thermostats monitor your space conditions, and like the app, they allow you to change your settings for specific comfort needs. The Hx™3 Communicating Zoning System allows you to choose any combination of secondary zone sensors and thermostats to meet your needs. Take advantage of higher-level functions like zone humidity monitoring and control with advanced communicating thermostats.
Create Absolute Comfort With Premium Communicating HVAC Units
Partner communicating thermostats and sensors with YORK® premium-efficiency communicating indoor and outdoor units, along with a complete range of indoor air quality (IAQ) products, for a complete system. Our YORK® Affinity™ variable-speed and two-stage air conditioners, heat pumps and air handlers work seamlessly with the Hx™3 Communicating Zoning System to consistently maintain specific conditions in different areas of your house without constant adjustment.
Features
Up to eight zones available for more customized control
Offers voice control using Amazon Alexa and compatible with Apple Watch®
Exterior and remote monitoring along with automatic, Wi-Fi®-enabled system updates help keep your system running efficiently and reduces the need for in-home service visits.
4.3-inch digital color touchscreen main controller for increased visibility.
Complete control when home or away with the Hx™ app via your smartphone
Bypass damper optional. System compatible with any 3-wire, 24V power open/close dampers.